European Division and the Hebrew Language Table of the Library of Congress Present:

What: Lecture-Nazi Propaganda: The Machinery of Evil
Lecture by Professor Gabriel Weimann

When: Monday, May 18, 2009 at Noon

Where: Pickford Theater, Library of Congress, Madison Building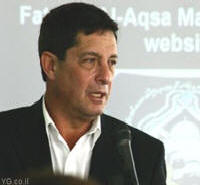 This presentation by Dr. Gabriel Weimann, a Professor of Communication at Haifa University, Israel and at the American University, Washington, DC, will examine the social and psychological mechanisms activated by the sophisticated and powerful Nazi propaganda. The multi-media presentation includes posters, movies, speeches, public events, books, cartoons and other media used by the Nazis.

Program is free and open to the public.
For more information contact Gail Shirazi: 202-707-9897, gshi@loc.gov

Weimann is currently a visiting professor at the American University in Washington, D.C. His research interests include the study of media effects, political campaigns, persuasion and influence, media and public opinion, modern terrorism and the mass media. He is the author of five books including "Communicating Unreality," "The Influentials:
People Who Influence People," "The Theater of Terror," "Hate on Trial" and "The Singaporean Enigma."

Weimann's report titled "Terror on the Internet," which was published in 2007 by the nonpartisan, congressionally-funded U.S. Institute for Peace, has received much media attention. The report concludes that the potential for terrorist cyber-attacks over the Internet is an"overrated" threat. Instead he suggests that policymakers and journalists should focus on "the numerous uses that terrorists make of the Internet every day." These include psychological warfare; publicity and propaganda; data mining; fundraising; recruitment and mobilization; networking; sharing information and planning and coordination.